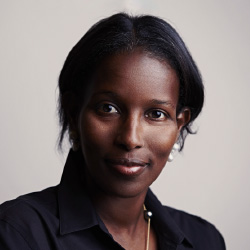 The criticism she's faced for adopting Haitian children shows how woke progressives are determined to divide every part of society into groups.
I remember, in 2018, watching the repugnant Supreme Court confirmation hearings for now-Justice Brett Kavanaugh, in which he was slandered with wild, decades-old accusations from high school, and wondering: If Donald Trump were to nominate a woman to the high court, what would be the left's line of attack? I now have my answer: not what Amy Coney Barrett did as a teenager, but instead her seven school-age children. 
It is not just the current snide references to the size of her family—"prolific motherhood," as the Washington Post's Robin Ghivan put it—it is the original attack, launched in particular against two of Coney Barrett's children, who were born in Haiti. 
None other than the author of How to be an Anti-Racist, Ibram X. Kendi, accused Barrett of being in essence a "White colonizer," "civilizing 'savage' children in the 'superior' ways of White people," using them as "props," and "cutting the biological parents out of the picture of humanity." He drew these conclusions from a photo. Kendi then added a second post: "It is a belief that too many White people have that if they adopt a child of color, they cannot be racist." 
This line of attack has stuck. It continues to rear its head in Twitter threads and online comments. It needs to be forcefully rejected, not simply by white supporters, but by black intellectuals and opinion makers across the spectrum. 
In 1881, the great Frederick Douglass wrote a stirring and prescient article for the North American Review titled "The Color Line." Prejudice had, in Douglass's formulation, artificially drawn a color line around black Americans, keeping them denigrated and segregated. Douglass linked this denigration to the many wider prejudices of the time, against Jews, Christians, Quakers, Chinese—the list is long. 
But he also identified a second, more pernicious point: an unspoken belief that blacks must, as our era would put it, "stay in their lane." "They shrink back in horror from contact with the negro as a man and a gentleman, but like him very well as a barber, waiter, coachman, or cook," Douglass wrote "As a slave, he could ride anywhere, side by side with his white master, but as a freeman, he must be thrust into the smoking-car." 
Today, in the councils of racial grievance, we have a nearly identical phenomenon, just applied in reverse: Every white person's motives toward any person of color are inherently suspect; every action undertaken has some attempt at racial superiority attached to it, or at least a racial overtone. This is particularly so if that person happens to fall on the wrong side of the political line. Douglass's identification of a color line, which allowed Jim Crow discrimination and housing red lines along with property covenants that prohibited "blacks, Jews, and wild animals," has morphed into 21st century woke labels like "white privilege" and "white colonizers." The wokeists are determined to divide every part of society into groups—and if you dissent, you are vilified. 
Consider Kendi's prescription for how to "cure" us of our racism: A federal Department of Anti-Racism, the DoA, which would "be responsible for preclearing all local, state and federal public policies to ensure they won't yield racial inequity, monitor those policies, investigate private racist policies when racial inequity surfaces, and monitor public officials for expressions of racist ideas."
The DoA, Kendi writes, "would be empowered with disciplinary tools to wield over and against policymakers and public officials who do not voluntarily change their racist policy and ideas."  A Kendi-run DoA clearly would have said no to the Barretts' adoption of Haitian-born children, although the disciplinary tools it would wield are left to the imagination. But let's take this view to its logical conclusion. If interracial families are simply using the person of color as a "prop" in an effort to "civilize" the "savage," then clearly the foster care system needs to be dismantled. No longer can children in dire straits be placed outside their personal color line. It's also time to overturn Loving v. Virginia in the Supreme Court. Who can permit an interracial couple, with all the inherent "civilizing" inequities such a partnership must entail—marriages like those of Kamala Harris and Douglas Emhoff, President Barack Obama's parents, Vanessa and the late Kobe Bryant—and mine—not withstanding? While we are at it, perhaps it is time to end religious intermarriage and adoption: under this argument, no Catholic should ever adopt a Mormon child, or vice-versa. 
Of course, all this is preposterous and repugnant—and that is the point. Frederick Douglass himself got it entirely right when he called it a "color-line feeling, for it is neither uniform in its operations nor consistent in its principles." The left's color line today is very much the same. Douglass went on: "Its contradictions … would be amusing if the feeling itself were not so deserving of unqualified abhorrence." Again, those words apply thoroughly to our present moment. The racial straitjacket we are living in is not simply some lazy argument: It is abhorrent and destructive. The personal accusations routinely made by the woke left reek of the same hatred that Douglass so eloquently decried. 
In his essay, Douglass also pleaded, "Come and let us reason together." Because I believe in the promise and ideals of America, I still hold out hope that we can. But I am also enough of a realist to recognize that the longer many of us remain silent, the less hope we have that any kind of reason will prevail.
Original Source